It is time for a revolution in the functioning of the system health care in CEE. Patients needs have changed and medical care providers must be prepared to meet the requirements which is the desire to use new technology in health care.
According to PwC analysis, almost 60% of patients in Central and Eastern Europe have expressed willingness to use telemedicine solutions. Next-generation health care will utilize more and more technological innovations such as mobile devices, dedicated applications, teleconferences, and even artificial intelligence or data mining tools.
Changes will be mostly implemented in basic health care, outpatient care, followed by diagnostics, rehabilitation and services for seniors. All those segments already have new technologies to be used.
Competing companies
Dynamics of telemedicine is affected by companies offering near-medical services which have found new opportunities and thanks to competition between those companies new and more developed and more advanced devices are provided.
Smaller and more flexible companies understand the needs of patients. This enables them to offer innovative and attractive solutions. Meanwhile private providers operating for many years on the market, managing whole networks of clinics, try to catch up quickly the lost time.
Changes
The changes will mainly affect those segments of health care which have private financing on a high level. In Central and Eastern European countries private spending on health services has always played a huge role, bigger than in the West which have more budget to finance health care.
Nearly 60% of patients (over the age of 18 and with a net income of more than € 300 per month) in Central and Eastern Europe are ready to use telemedicine solutions, and most of all:
teleconferences,

telemonitoring,

telediagnostics,

telerehabilitation.
Teleconference market in Poland has reached 110% growth rate annually which means that the number of teleconferences doubled in just 12 months.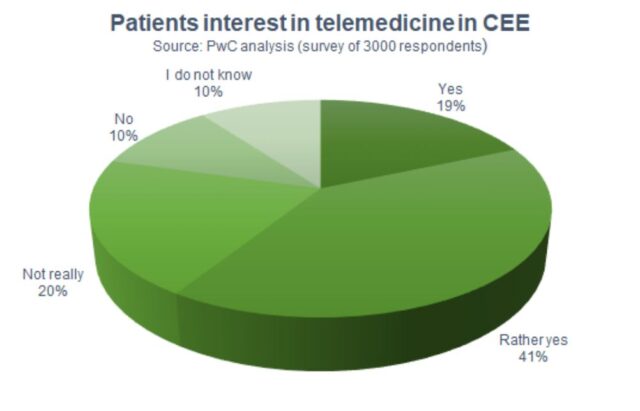 Patients demands are increasing, they do not want to see any doctor, they want the best doctor. People are searching for opinions and they have access to information which enable them to choose who and how will take care of them. Cost of health care has ceased to be a decisive factor. The time and quality is more important now.